(11-Dec-2017)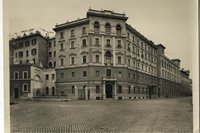 On 8 December 2017, the Jesuit General Curia marked 90 years of presence at the current location on Borgo Santo Spirito 4, close to the Vatican. Here is an entry from the annals of the house for 8 December 1927:
On December 8, Father General (Wlodimir Ledochowski) wished to bless the new Curia under the auspices of the Immaculate Virgin, according to the formula of the Roman Ritual "pro nova domo benedicenda". The ceremony took place this way:
Starting from the lower floors, Father General gradually ascended to the higher floors. All the Fathers and Brothers of each floor, after having received the blessing, also went up following Father General upstairs.
On reaching the top floor, in front of the image of the Sacred Heart, placed at the head of the staircase, the consecration of the whole religious family to the Sacred Heart of Jesus was solemnly renewed.