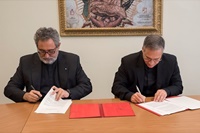 The Vatican's Secretariat for Communications and the Society of Jesus signed a Convention on September 21, 2017.
Msgr. Dario Edoardo Viganò, the Secretariat's Prefect, said, "This signing comes only a few days after the 100th birthday of Fr. Stefanizzi."
"Fr. Stefanizzi was the Director of Vatican Radio during the years of the Second Vatican Council, an event which needed to be recounted to those persons who understood neither Latin nor theology. From this point of view, therefore, Fr. Stefanizzi followed the model of 'user first', putting primary focus, that is, on the users of communication, which is today the center of the Vatican Media reform desired by Pope Francis. Fr. Stefanizzi knew how to mediate what happened in the Council room with what people needed to know, so as to avoid a double reading of 'inside' and 'outside' the Council, often highlighted by both Pope Benedict XVI and Pope Francis," Msgr. Viganò said.
The Prefect of the Secretariat for Communications also expressed gratitude, both his own and that of the whole dicastery, to the Society of Jesus, with which, during the last year and half, a process of discernment and rethinking has begun of the Jesuit's presence within, no longer Vatican Radio, but a much larger reality. With the signing of the Convention, the Society makes itself available to this service according to the apostolic mission of the world of communications. Msgr. Viganò also relayed the gratitude and satisfaction of the Pope for this new form of collaboration within the reform process.
"We are fulfilling," he concluded, "an act of obedience to the Holy Father regarding the criteria indicated by him. This new collaboration will bear much fruit because, when one lives in service to the Church, personal gratification is overcome. Service overcomes each of us, and the hope is that one's vocation can be lived 'in God's way'. We are not only professionals but good professionals transfigured by the experience of the mystery of God."
"Times change," declared the delegate of the Society of Jesus, Fr. Juan Antonio Guerrero Alves. "They are a part of the vocation of the Society of Jesus to serve the Church, as the Church requests. Our contribution in the field of communications makes us happy, because we can contribute to the reforms desired by the Holy Father."
Source: radiovaticana.va