St. Xavier's Vocational Institute (XVI), Jaipur
St. Xavier's Vocational Institute, Jaipur was founded by George Peter, SJ and was started in the year 2006 in the main city of Jaipur to support the marginalised and underprivileged sections of the society. The aim was mainstreaming women and enriching them with the employability skills which either help them to make their space in the organised job market or lead them towards the self-start ups. The institute is supporting one of the major focus areas of Jesuit Conference of India – JesuiTec.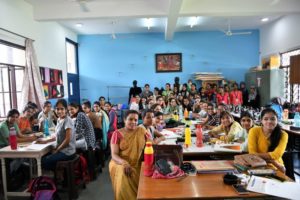 Currently, the director of the institute is Jose VK, SJ and the institute supports in total four trainings in the streams of Beauty Culture, Computers, Stitching and Tailoring and Fashion Designing. Apart from these specific courses the institute is also guiding trainees with personality development and English-speaking classes between the age group of 16-35 yrs. The trainees enrolled under these trainings are generally from the main Jaipur city and the nearby villages like Bassi, Achrol, Kanota and Chomu.
The vocational institute in the Jaipur city has witnessed a much demand for the past years. The numbers of trainees passed out in the last 10 years are approx. 5000. Currently, each course has approx. 40 trainees or more and the number of teachers from the fashion designing is two, and one for the rest of the traits.
XVI, Jaipur is NIOS- Delhi (National institute of Open Schooling, GOI) accredited vocational institute. It is also locally affiliated to RMOL (Rajasthan Mission on Livelihood, Govt. of Rajasthan).
The team from the Assistancy Development Office- JCI, visited the Xavier's Vocational Institute, Jaipur for 7th & 9th August 2019 with the aim to enhance visibility and create documentation of the centres and to highlight the other major initiatives of Xavier's Education focused towards marginalised communities in the field of education and development of those in need.
While talking to the teachers and the students in the institute, we experienced how the demand for the vocational courses are increasing and how XVI is playing a significant role in educating and empowering the women in the state.