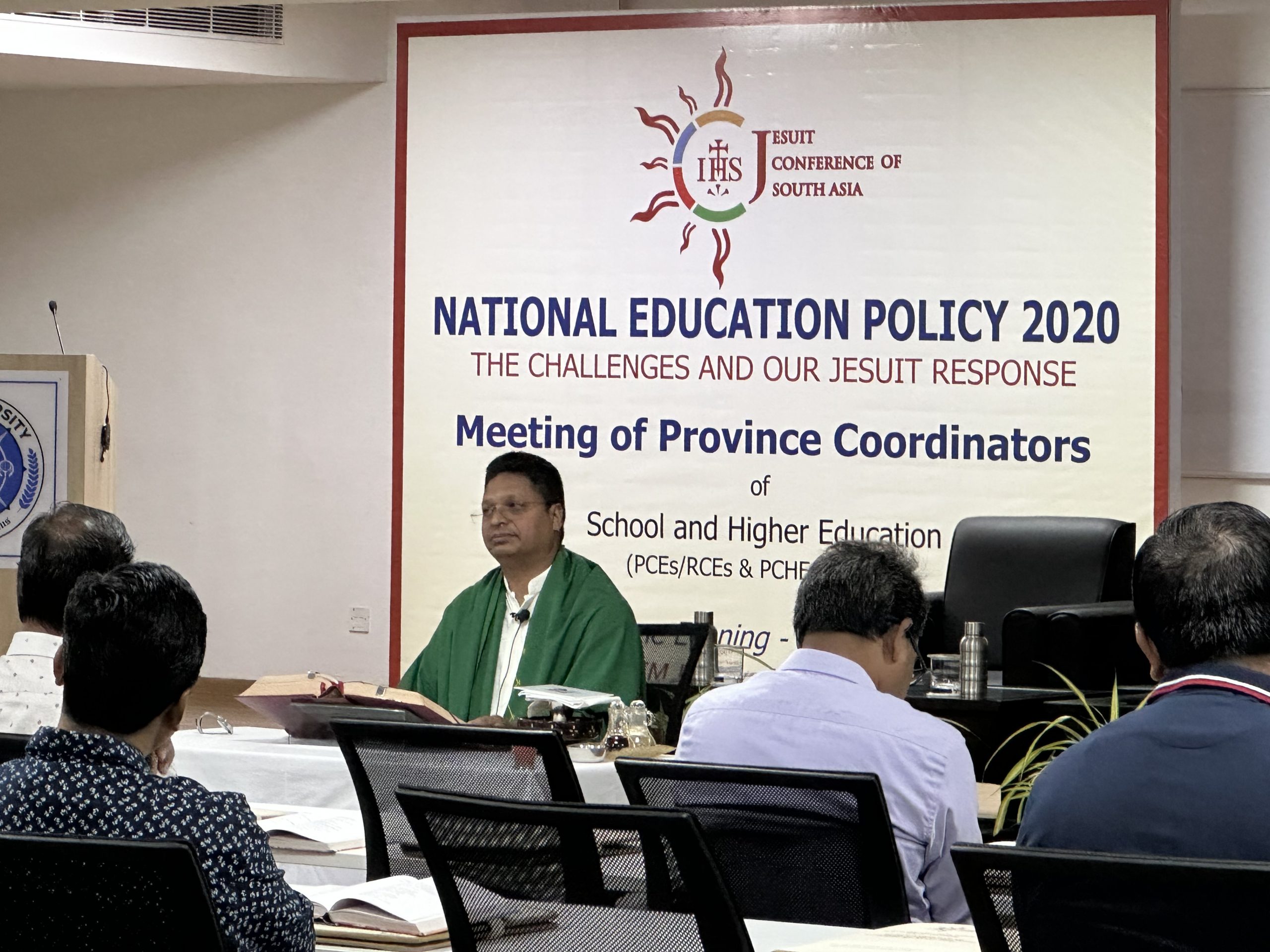 Report of the Meeting Province/Regional Coordinators of School Educations (PCEs/RCEs) and
Province/Regional Coordinators of Higher Education (PCHEs/RCEs) on National Education
Policy 2020 and Our Jesuit Response
At XIM University in Bhubaneswar from 28 June – 01 July 2023.
Province/Regional Coordinators of School Educations (PCEs/RCEs) and Province/Regional Coordinators of Higher Education (PCHEs/RCEs) of Jesuit Conference of South Asia (JCSA) had a three-day meeting on 'National Education Policy 2020 (NEP 2020) and Our Jesuit Response' at XIM University in Bhubaneswar on 28 June – 01 July 2023. It was organized by NEP Task Force of JCSA, Frs. Joe Arun (Convener), John Ravi (CSSE), and Rohan Almeida (KAR), appointed by Fr Stanislaus D'Souza, President of JCSA with a mandate of assisting and accompanying the provinces in India in their efforts to respond to the challenges and opportunities of NEP 2020.
The meeting was organized basically to find ways and evolve strategies to face the challenges and make use of opportunities of NEP 2020 collectively with the coordinators of school and higher education. While being critical of the approach to and subtle agenda of the Policy against minority rights, enshrined in the Constitution, and our service to the people on the peripheries, the meeting looked at different thrust areas of the Policy to understand what the Policy said and what impact it would make if our schools and colleges started implementing the Policy in the coming months as statutory bodies of the Ministry of Education, Union Government, had been asking for reports of implementation, and in fact, in some states the Policy has already been implemented in many ways.
The meeting started with a dispositional prayer in which Fr. Joe Arun, Convener of the NEP Task Force explained dispositions that were required and the Jesuit approach to be employed to consider the Policy to draft guidelines for the entire Conference to respond to its challenges and opportunities. He also presented learning outcomes to be achieved by the end of the meeting. As directed by Fr. POSA, Fr. Joe Arun said, the response of our education institutions of the Conference needed to be both strategic and scientific. It should be strategic in the sense that every institution must respond to the Policy based on the ways in which each state of India looked at the Policy by reading the context, as known, some states started implementing it completely and some others has not any clear direction in the process of implementation. In few states, the Policy is opposed although the educational institutions have been asked for reports of implementation through circular letters and notifications.
Prof Thimme Gowda, former Vice-Chancellor of Bangalore University, and a member of NEP implementation committee of Karnataka state government explained in detail about the Policy and how it has been implemented in Karnataka. And he also drew attention of the participants to the challenges of the Policy.  He was generous with his time to take questions and clarify doubts from the PCEs and PCHEs and answered them elaborately. The breadth and depth of his knowledge was a great help to clear some grey areas of the Policy. Frs. John Ravi and Joe Arun presented the key features of the Policy for school and higher education. The whole group was divided into smaller groups for Spiritual Conversation in which they were asked to discern and suggest a plan of action for the Conference. Fr. Stany D'Souza, POSA shared his reflections on what approach we should take towards the Policy and how we respond to it appropriately. He asked us to listen to two voices – the voice of our service to the Marginalized and the voice of extreme fundamentalists. His perceptive observations on the features and issues of the Policy alerted the PCEs and PCHEs to make a proper discernment.
Finally in his address, he wanted us to take up the following tasks.
"Form Task Forces at the province/region and institution level comprising Jesuits, collaborators and legal experts to study and guide, to monitor and evaluate. Create also Platforms to share information and developments on NEP with one another.
The constitution of the country is the basis to any public policy. Therefore, values like Justice, Liberty, Equality and Fraternity need to be our frames of reference. These values also resonate with our faith. Hence, formulate add courses on the Constitutional values, human rights, gender sensitivity, protection and promotion of environment, etc., and initiate an interaction with the poor and the marginalized through outreach programmes and research.
Teachers are Key to education. Hence, their personal formation and professional upgradation needs to be taken up.
The core of our concern in a country like ours is to find ways to reach education to the marginalised. This is our option as well. Make education accessible to all especially the poor and the minorities. Go out of your way to educate them by evolving financial supports to help them.
Form an alliance with the like-minded people through networking and collaborate with them. It will help not only to serve our mission but also to fight the adversary with more strength.
Our focus is our students. We need to promote broad based, flexible, individualized, innovative and multidisciplinary learning in institutions so that we prepare students not just for their first jobs but also their second third and all future jobs, in fact, to become enterprising and creative innovators.
Our aim among other things is to reintroduce the more humanistic conception of education. We must enable the individual to shape not only as an economic, political and mechanic subject but also to grow as a strong personality who can face and overcome all hurdles set in the path.
It is time for us to evaluate our schools/colleges so that we may re-orient them to be more efficient and effective to serve our mission.
The world of learning has increased immensely the potential for employment. However, it must be noted that in addition to preparing children for occupations we must also help them imbibe critical thinking and gain more complex skills to increase understanding and knowledge so that they are ready for the unknown future."
Reports of Spiritual Conversation
Map/audit the status of all our schools and colleges against the background and thrust areas/key features of the Policy.
Form NEP Task Forces both at the level of each Province as well as at the level of each Institution
Focus on the key thrust areas of the Policy for school and higher education to measure our capabilities to respond to the call of the Policy by keeping in mind the characteristics of Jesuit education.
Train Province Task Forces, administrators, Jesuits (PCEs/PCHEs) at zonal levels on strategic and scientific response to the Policy
Make all our institutions IT enabled learning institutions and have proper and robust Learning Management System (LMS) and initiate expansion of programmes to make our institutions multidisciplinary institutions with an approach of liberal education.
Prepare a common minimum programme for implementation of the Policy for the conference.
Make higher education become a university (cluster university /deemed to be university/state private university/degree awarding college) by informed by the experience of the three Jesuit universities in the Conference.
Create many platforms (social media) and avenues to share information/ideas/analysis on implementation of NEP regularly.
Later, PCEs and PCHEs went separately to discuss how schools and colleges would plan for implementation of the seven points resulted from the plenary session in responding to the Policy and what activities (action plan) they would be engaged in to make use of opportunities available to enhance the quality of service (teaching-learning-evaluation) in all the institutions. Before the coordinators of school education began their discernment, Ms. Ambika Roshan, Principal of Maharaja Aggarsain Public School, Delhi, who had been invited to provide inputs on NEP for schools shared her views and explained the ways to understand and implement of the Policy. Fr John Ravi, Secretary, School Education coordinated and moderated the sessions in which PCEs/RCEs actively participated. For discernment by PCHEs, Fr Anthony Uvari, Vice Chancellor of XIM University, shared how he had faced the challenges and what he had learnt in his journey to upgrade XIM-B into XIM University, which was indeed enlightening and instructive for all the coordinators.  That followed more elaborate discussion on how each PCE and PCHE would respond to the Policy in his province.
Action Plan:
PCEs and PCHEs would meet up with their Provincials/Regional Superiors to finalize the NEP Province Task Forces for their provinces in which PCEs and PCHEs are part of the group. They would make sure that Headmasters/Principals/Directors/Managers of all the institutions formed NEP Institutional Task Forces (ITFs).
After October 2023, NEP Task Force of JCSA (Frs. John Ravi, Joe Arun and Rohan Almeida) would train the Province Task Forces (PTFs) in the four zones with help of a team of resource persons. The Zonal Coordinators of the school education and higher education, two of them in each zone, would oversee and take care of logistics, board and lodging in all the venues of the four zones.
Once the ToT is completed, the PTFs would in turn train the ITFs in all the institutions in the Conference.
After the training of PTFs and ITFs was completed, it was suggested that all Headmasters/Principals/Directors and a select group of competent staff/faculty would go through a weeklong training on NEP 2020 at XIM University with an aim of enhancing the quality of education we provide in our institutions and increase the capacity to face the challenges of NEP 2020.
Joe Arun, S.J.
Convener, NEP Task Force of JCSA