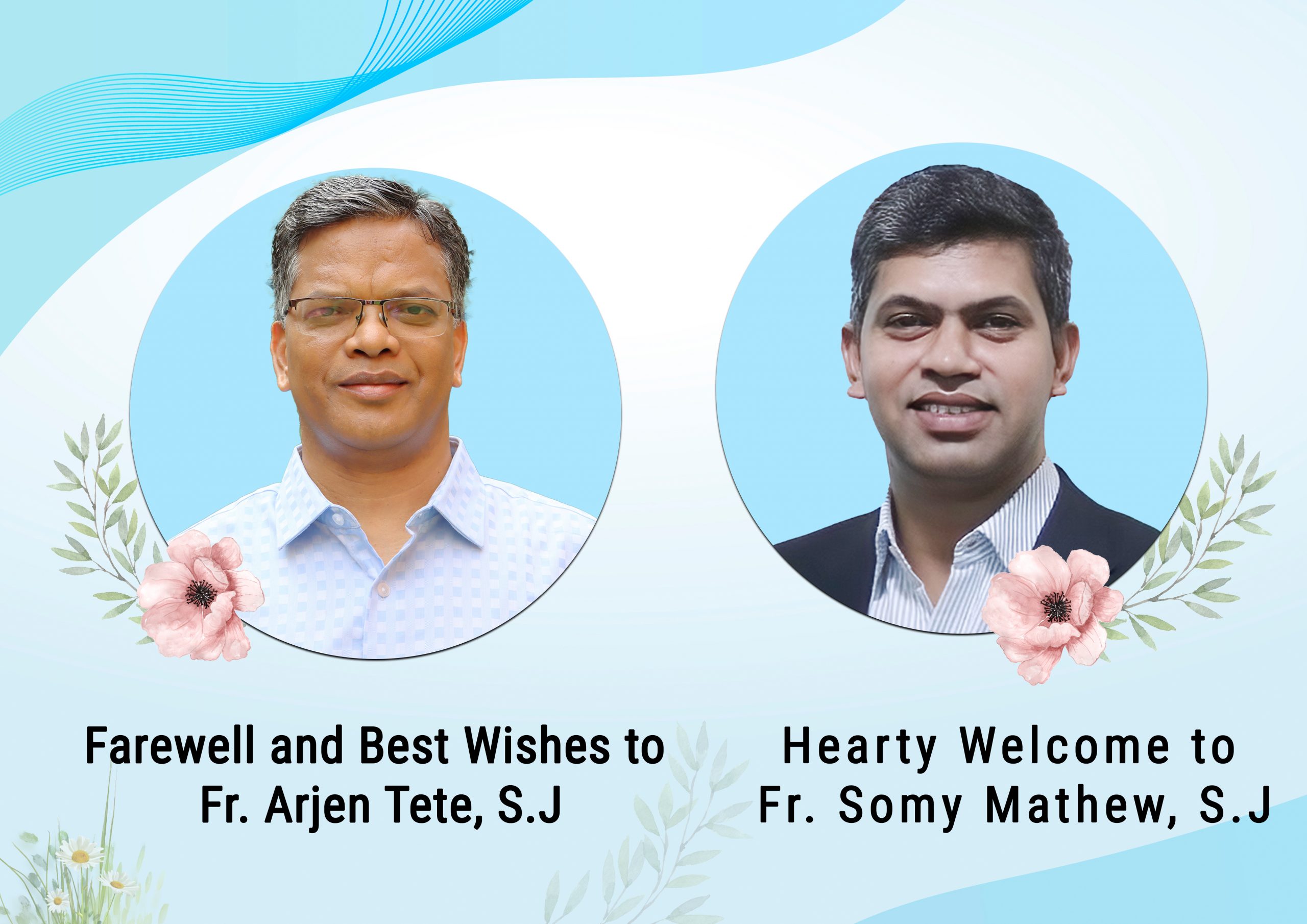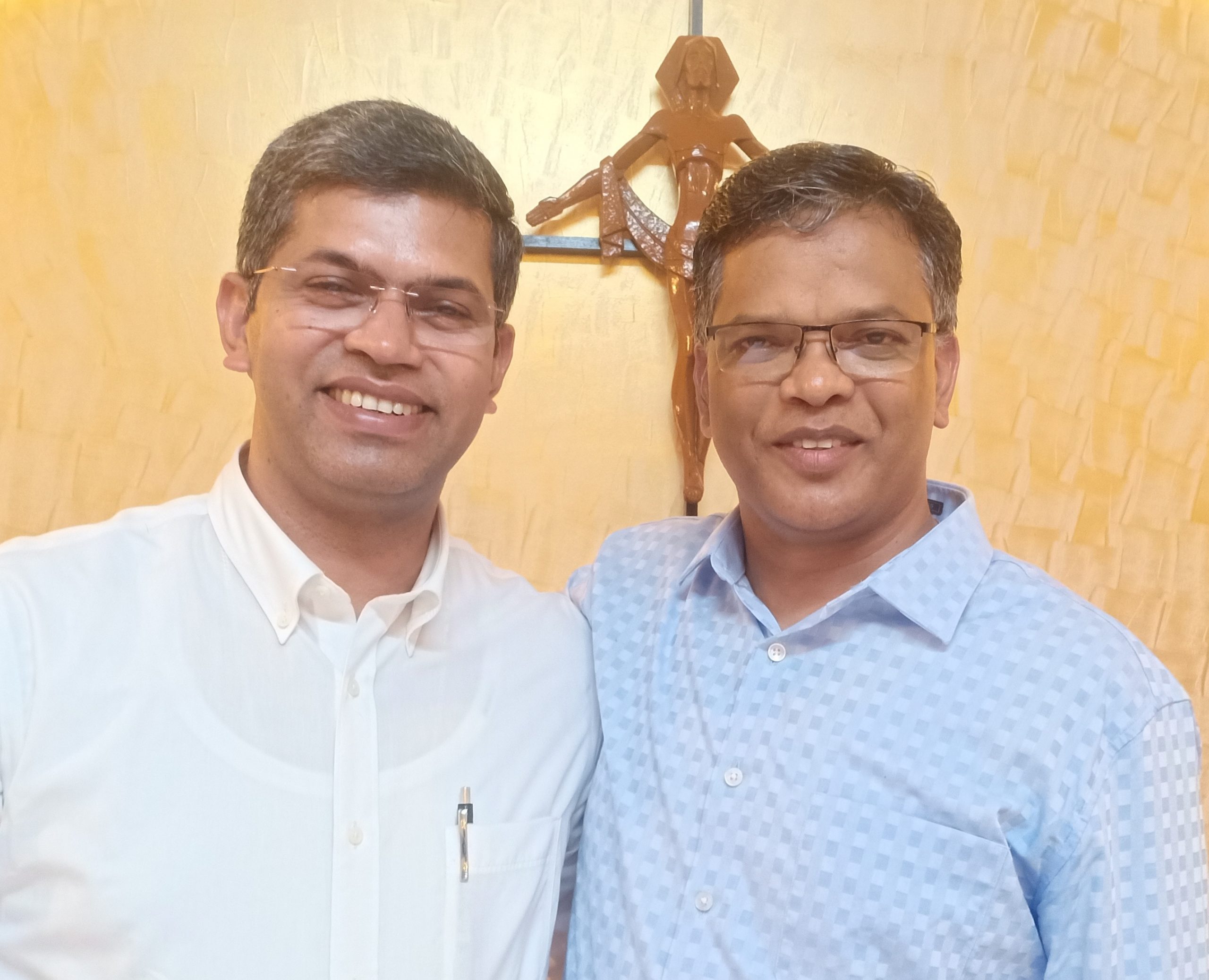 A Sincere Thanks to Fr. Arjen and A Heartly Welcome to Fr. Somy
The Joyful Celebration at Jor Bagh, New Delhi on 26th August 2023 was the arrival of Fr. Somy Mathew, S.J. and the farewell of Fr. Arjen Tete, S.J. as the Conference Secretary for Integral Formation. The Celebration began with the Holy Eucharist celebrated by Fr. Arjen, the outgoing Conference Secretary for Integral Formation. The gathering included three Jesuit communities: Vidya Jyoti, Indian Social Institute and Jor Bagh, gathered for the joyful occasion to thank the Almighty God for the wonders He has done in and though Fr. Arjen for Jesuits in Formation in the Conference.
Fr. Stany D'Souza, S.J., the President of South Asia Conference (POSA), at the end of the Holy Eucharist thanked and felicitated Fr. Arjen with a shawl. In his thanksgiving address he said `during the last two years, Fr. Arjen has done much. He has built the Secretariat structurally and culturally. While laying strong foundations with clear vision and mission, goals and activities he has ushered in a rich culture of competence and collaboration. While preserving what is essential and discarding what is irrelevant, he has introduced new things with true discernment. Thanks to him we have a new syllabus for the Juniorates, guidelines for the early formation and regular inflow of men to staff our faculties. He stressed intellectual dimension and socially oriented formation. In other words, while recycling the past, he has also sown seeds for the future.'
Fr. Stany D'Souza, S.J also came forward to welcome Fr. Somy Mathew, S.J., the new Conference Secretary for Integral Formation honoring him with a shawl.  In welcoming Fr. Somy he said `there is not a single path to make formation efficient, effective and efficacious. While maximizing our resources, we need to seek help from others, especially the people of good will and the organizations, which share our vision and mission. While recycling the past, we need to sow seeds for the future. Of course, these seeds may take time to sprout and grow as fruitful trees for future generations. I am sure, Fr. Somy, that you will give your best. The God, who inspired you to be his collaborator, will surely accompany and assist you.'
The Jor Bagh community under the leadership of Fr. Shajumon, S.J., the Superior, made the evening very memorable for both Fr. Arjen and Fr. Somy.  Fr. Jagadish Parmar, S.J., came forward to thank Fr. Arjen who was in Jor Bagh community for two years. With gratitude he thanked Fr. Arjen saying `you spoke less but listened much and that is what we admire in you. As we bid you farewell, our hearts overflow with gratitude for the valuable time we've shared. Your commitment, positive spirit, and unwavering dedication have truly made a lasting impact on each one of here in this Community and in the Conference. In every endeavor, you stood tall. We'll miss your presence dearly but are happy that the Society has once again looked towards you with high hopes to entrust a Province into your able hands and we know you will do well. Wishing you all success and happiness always.'
To conclude, I go along with Fr. Stany, S.J., the POSA who in his thanksgiving address to Fr. Arjen said `Thank you Arjen, for your availability and generosity. As you embark on a new mission, I wish you all well. May God continue to bless you and accomplish great things in and through.' Thank you, Fr. Arjen, and welcome to you, Fr. Somy.
Reported by Fr. Vernard Antony, S.J., Conference Communication Coordinator