Global Migration Experts Build a "Culture of Hospitality and Solidarity"
February 13, 2020 — This month the Jesuit Conference hosted an annual meeting of migration experts from the Global Ignatian Advocacy Network (GIAN). Delegates discussed the migration realities in their home countries and Conferences, identifying common trends in global migration, such as "the criminalization of migrants and their defenders in several parts of the world and increasingly restrictive public policies that violate the rights of migrants." Through a joint statement the GIAN delegates called on the global Ignatian community to create a "culture of hospitality and solidarity" with migrants.
"Migrants are human beings like all of us," said Rampe Hlobo, SJ, the GIAN delegate for Africa and Madagascar. "They carry the human dignity that every one of us carry and that human dignity should be protected."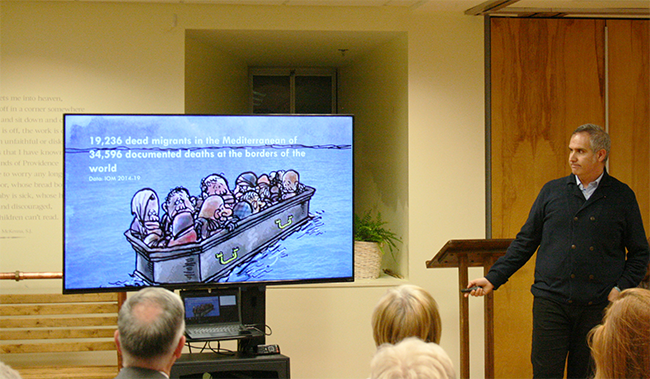 GIAN delegates convene in Washington, DC. From left to right: Kim Min, SJ, Javier Cortegoso, Valeria Mendez, Rampe Hlobo, SJ, Caitlin-Marie Ward, Alberto Ares, Aloysious Mowe, Martin Puthussery.
Across Conferences, delegates expressed concern for growing xenophobia. Across all the Conferences, delegates found that , violence and hostility against migrants was intrinsically linked to poverty and systemic economic injustice. When government systems fail or welfare services are poorly implemented, vulnerable migrants are dehumanized and scapegoated for these failures by host communities. Hostility rather than hospitality becomes the order of the day.
We asked these migration researchers and advocates about global migration trends and how nations can improve international migration policy.
GIAN Delegate Q&A
*This Q&A has been edited for grammar and brevity.
Q: What should a North American audience understand about migration in your regions?
Alberto Ares, SJ (Spain): Over 7 million people in Spain are migrants. That's 14 percent of our population. We must focus on integrating migrants, providing humanitarian aid and legal paths to citizenship.
Rampe Hlobo, SJ (South Africa): Americans should understand the global influence of their nation's policies. Whatever America does, other countries try to emulate. If America is hostile to migrants, many other countries will follow suit. This is the case in Africa — countries that used to be hospitable to migrants and refugees are becoming hostile. In South Africa, refugee protections have been amended and a new white paper (policy proposal) on migration is trying to reverse progressive migration legislation.
Martin Puthussery, SJ (India): When it comes to migration out of India, most migrants are professionals. IT and medical professionals come to North America, but the poor cannot leave India. Instead they migrate within India or South Asia. However, due to fierce regional identities and language barriers, these migrants often face intense xenophobia in their own country.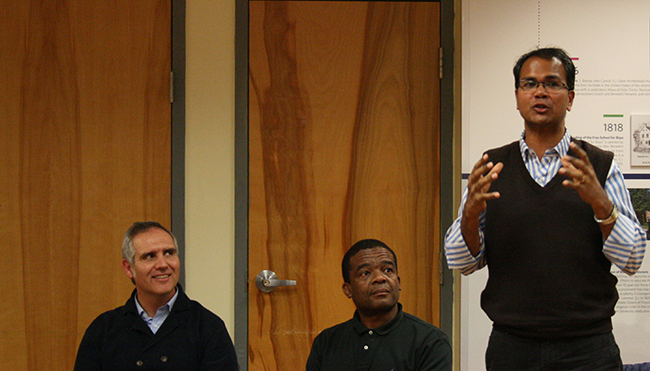 Alberto Ares discusses migration realities in Europe. Slide text: "19,236 dead migrants in the Mediterranean of 34,596 documented deaths at the borders of the world."
Q: What regional migration policies do you want to improve or change?
Alberto Ares: I want a new pact among European nations that allows countries like Spain to focus migration policy on integration.
Martin Puthussery: We need to support the rights of migrants. Poor migrants are treated like second-class citizens, while educated migrants are seen more favorably. No matter their wealth, as human persons, migrant rights must be upheld.
Kim Min, SJ (South Korea): South Korea must ensure equal salaries for migrant and native workers. Fishermen and farmers are seasonal workers and therefore are not eligible for the same labor protections as workers in other industries. This is a big error in the Korean labor law system that the Jesuit and Catholic community are working to change.
Martin Puthussery (right) describes migration trends within India.
Q: How do you balance addressing the immediate needs of migrants and changing the societal conditions that create those needs?
Rampe Hlobo: To balance these issues, we must also address poverty. Xenophobia in South Africa is closely linked to poverty. When poor communities protest the lack of social services in South Africa, some people resort to looting migrant businesses. Social and economic injustices cannot be taken out of migration discussions. Secondly, when we provide services to refugees, we must design programs that benefit the refugees and the host communities. If the host community does not benefit from the presence of migrants and refugees, then there will be underlying hostility. There are livelihood programs that can benefit both groups, and these can act as a protective measure for migrants and refugees.
Martin Puthussery: Our policies in India must meet everyone's needs — not just those of professionals. The poor have the right to migrate for their own livelihood as well. In addition to natural calamities, the poor are vulnerable to human-created situations that force them to flee. We must recognize this fact at the policy level.
Q: How can communities work to change migration policy?
Kim Min: As a community, the Catholic Church in Korea is already changing migration policy. The Bishops' Conference's migration committee has advocated for equal rights for migrant workers across industries and for workers' right to unionize. The committee also launched a campaign against labor trafficking from Cambodia, Thailand, Vietnam and China into Korea.
Alberto Ares, Valeria Mendez, Kim Min, and Rampe Hlobo share stories from their ministries.Q: How does your work give you hope?
Alberto Ares: I live in a "community of hospitality," where a group of Jesuits and a group of undocumented migrants live together. It's been a source of hope in my life to live with people forced to leave their countries in search of a better life. I find God acting in the lives of these people. In my vocation as a Jesuit, this is a gift from God.
Kim Min: Two years after my ordination, I worked at the Jesuit Centre for Migrant Workers in Gimpo, Korea. I worked closely with Filipino migrant workers, and I had a happy time with them. But, I would also receive emergency calls, almost nightly, from migrant workers who were injured or endangered in their workplace. I would rush to factories or farms to help them. Many Korean business owners saw me as a traitor, but I found hope in the migrant workers. I focused on helping them negotiate with their employers to change the labor practices. Working with laborers to accomplish these reforms gave me hope.
https://jesuits.org/news-detail?tn=news-20200213093815&method=active
---
Alberto Ares, SJ, is a Jesuit of the Spanish Province and a researcher at the Institute for the Study of Migration at Comillas Pontifical University in Madrid.
Rampe Hlobo, SJ, is the former director of Jesuit Refugee Service in South Africa and now a migration expert with the Jesuit Justice & Ecology Network Africa.
Martin Puthussery, SJ, serves as the coordinator of the Labour & Migration Unit at the Indian Social Institute, and he resides in Bangalore.
Kim Min, SJ, is a Jesuit of the Korean Province, and he coordinates the Migration Network for the Jesuit Conference of Asia Pacific.